The World Sees Justin Trudeau's Distorted Reality
Are protesters honest and respectful citizens or not ?
Justin Trudeau invoked the Emergencies Act on February 14, 2022. This is the first time it has been used in this form.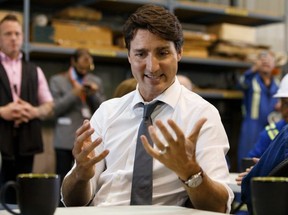 His father, Pierre Elliot Trudeau, invoked the War Measures Act in October of 1970 during the FLQ crisis.
RELATED: Will Justin Trudeau Invoke the Emergencies Act?
If you have a news tip or news story, send us an email at news@not.tv
More Coverage to come on Freedom Convoy 2022
Help them continue coverage of events as they unfold from downtown Ottawa by sending a donation either through the Donate button on the page or e-transfer to travis@not.tv.
ALL donations are graciously accepted.
Follow us:
https://facebook.com/wearenottv/
https://www.youtube.com/channel/UCIqHww-uDI_al6szf5E9WjQ
https://twitter.com/nottv
https://t.me/wearenotTV
https://www.facebook.com/watch/wearenotradio/

For more #FreedomConvoy2022 #bearhug #unitycanada coverage follow:
Laura Lynn on Rumble https://rumble.com/search/video?q=LAURA%20LYNN
Pat King on FB https://www.facebook.com/therealpatking
Odessa Orlewicz https://librti.com/
Chris Scott, Whistlestop Cafe on FB: https://www.facebook.com/whistlestoptruckstopcafe/
notTV is a grassroots start-up new media initiative. Truth and transparency are urgently needed in our world. You can support us by sharing and signing up for the newsletter HERE.
Read more about notTV HERE.
notTV – We're like TV but we're not TV